Key West Bucket List Item: A Sunset Cruise
Sunset Cruise
Posted by: Danger Charters 3 months ago
Imagine the warm, golden rays of the Key West sunset casting a magical glow over the turquoise waters. It's a sight that captures the essence of paradise and has become an integral part of Key West's vibrant culture … and it can be, for one enchanted evening, yours.
If you're looking to experience this awe-inspiring phenomenon in all its glory, then a Key West sunset cruise with Danger Charters is an absolute must. Prepare to embark on an unforgettable journey aboard one of our classic shallow-draft schooners, from the deck of which you'll witness a once-in-a-lifetime sunset, indulge in gourmet treats, and create memories destined for the shortlist. Whether you're here to delight your family, pop the question to your beloved, or take your employees out for a well-deserved celebration, trust us: a Key West sunset is just the ticket.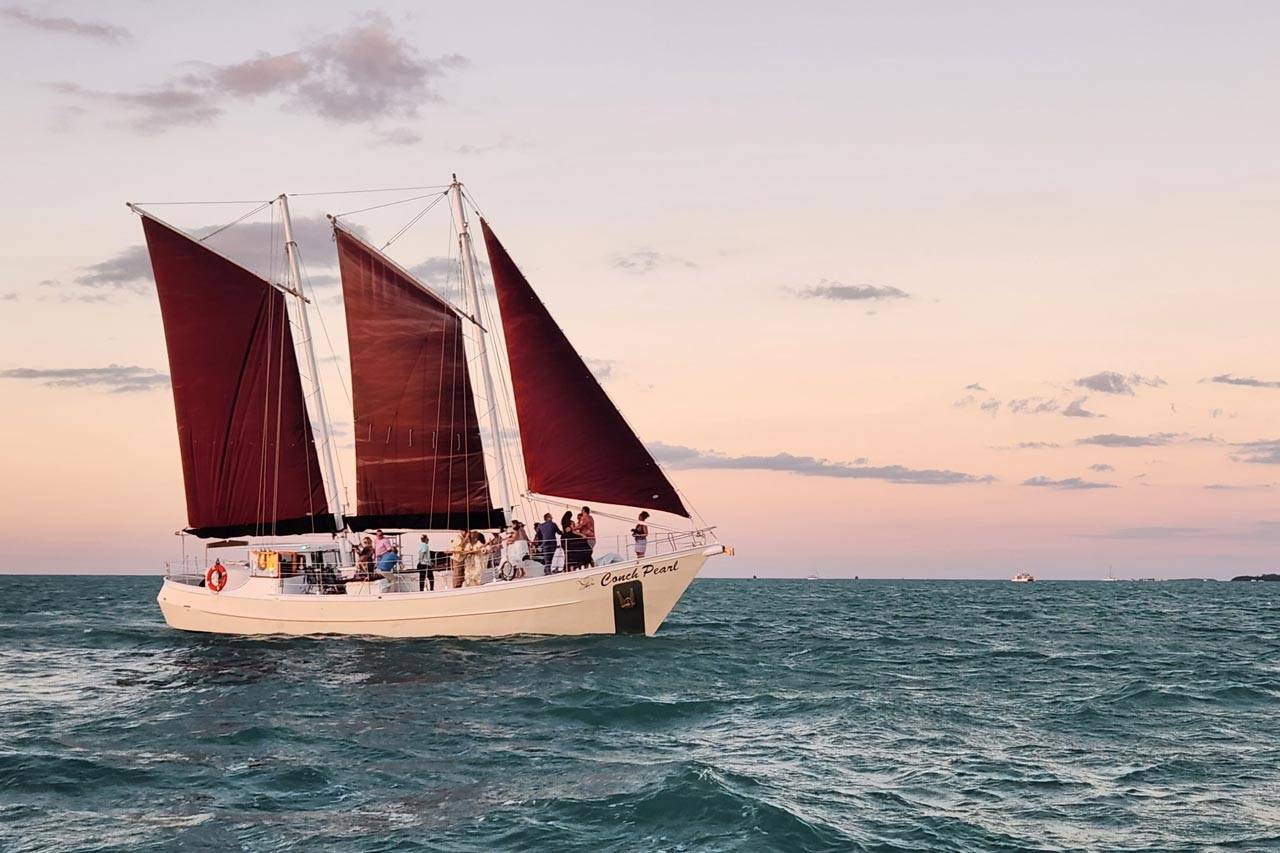 See You At Sunset!
We Key West locals have a saying: "See you at sunset." It speaks to the enchantment that surrounds the ritual of watching the sun bid farewell to the day over our fairytale waters. The allure of Key West's sunsets is so powerful that it has been elevated to an art form, particularly through the renowned Mallory Square Sunset Celebration.
What started as a casual gathering of free spirits in the 1960s has now transformed into a vibrant nightly arts festival. Crowds of revelers gather on the docks bringing good vibes and merriment while surrounded by jugglers, musicians, and other performers who add their touch of magic. Even in the thick of the circus atmosphere, the setting sun owns center stage, painting the sky with vivid hues and captivating the hearts of all who witness it.
The Sunset Sail, Key West Experience
When it comes to experiencing the true essence of a Key West sunset, Danger Charters knows how to deliver an extraordinary adventure. Suffice it to say, we do it right: sailing our picture-perfect craft into the honey-gold "Floribbean" sunset, embracing the tranquility and beauty of the moment. Watch in awe (beverage in hand) as our skilled crew hoists the sails, propelling us smoothly across the shimmering waters, creating an ambiance of pure bliss.
Savor the Moment: Nibbles & Sips
As you embark on your sunset cruise, Key West will show you her best side and we'll set out our best table!
We'll invite you and your guests to indulge in a selection of carefully curated delights. Danger Charters takes pride in offering a range of absolutely exquisite options, including premium wines from around the world, top-quality beers, and market-procured hors d'oeuvres. Picture yourself sipping a glass of fine wine or enjoying a refreshing beer, all while savoring delectable charcuterie boards featuring an assortment of meats, cheeses, crackers, fruits, crudités – and, yes, chocolate. We cater to your every need, ensuring an experience that indulges your taste buds and elevates your enjoyment.
A Sunset Celebration at Sea
Leaving the shores of Key West behind, our sunset cruise takes you on a captivating journey into the heart of the setting sun. With the open sea as our canvas, our nonpareil captains expertly navigate our ship, providing you with an unparalleled view of the sunset. Feel the gentle breeze on your skin and immerse yourself in an epic panorama as the sun paints the sky with brilliant oranges, pinks, and purples. (It's breathtaking.)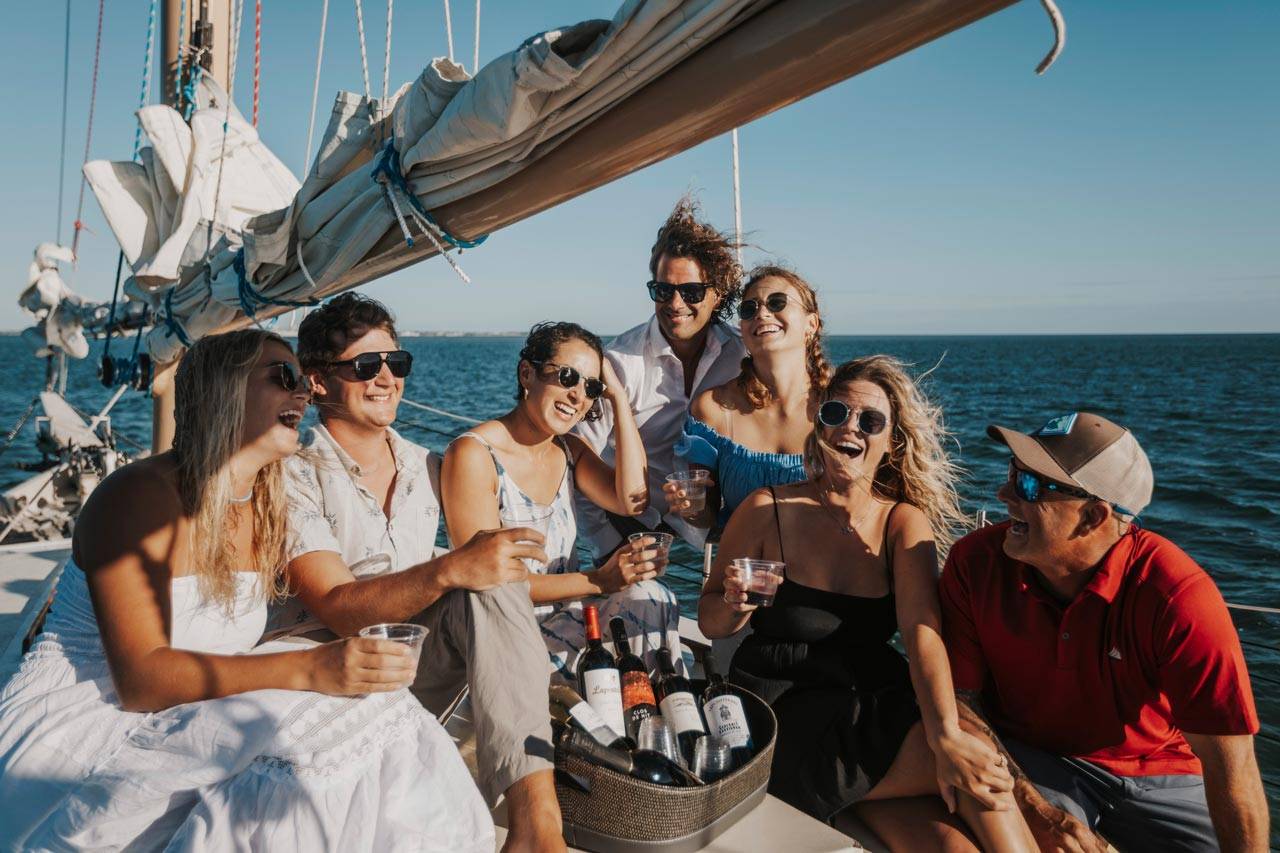 Planning Details for a Key West Sunset Tour
Some important logistical questions bear answering here: How long is the Key West sunset cruise? And what should I wear?!
Let's address the first question: Don't worry! We won't rush you. Our sunset cruises typically last around two hours, giving you ample time to soak in the beauty of the sunset, and to fully enjoy the onboard amenities.
As far as what to wear, we've put together a whole primer on precisely that subject, so you'll feel prepared when you join us on the appointed evening.
Hot tip: If you're proposing, don't forget the ring! (And tell us what you're up to and we'll happily help you make it extra special.)
Join Us!
A Key West sunset cruise with Danger Charters is an experience that belongs on every adventurer's bucket list. Wine glass and crudites in hand, you'll spend an unforgettable evening enjoying the life of a Posh Pirate of the "Floribbean" aboard one of our classic schooners, witness nature's breathtaking masterpiece, and create cherished memories that will stay with you forever. Book today, and we'll see you at sunset!