Danger Charters: What To Wear On A Sunset Cruise
General
Posted by: Danger Charters 8 months ago
Guests often ask what to wear on a sunset cruise, and we can see why. You want to know what to pack ahead of your Key West vacation! Is what to wear sailing in the evening the same as what to wear on a yacht day trip? Or do you need something a bit more formal?
Here we'll talk about appropriate yacht attire, provide some sailing outfit ideas for ladies and gentlemen, and cover the best shoes for sailing.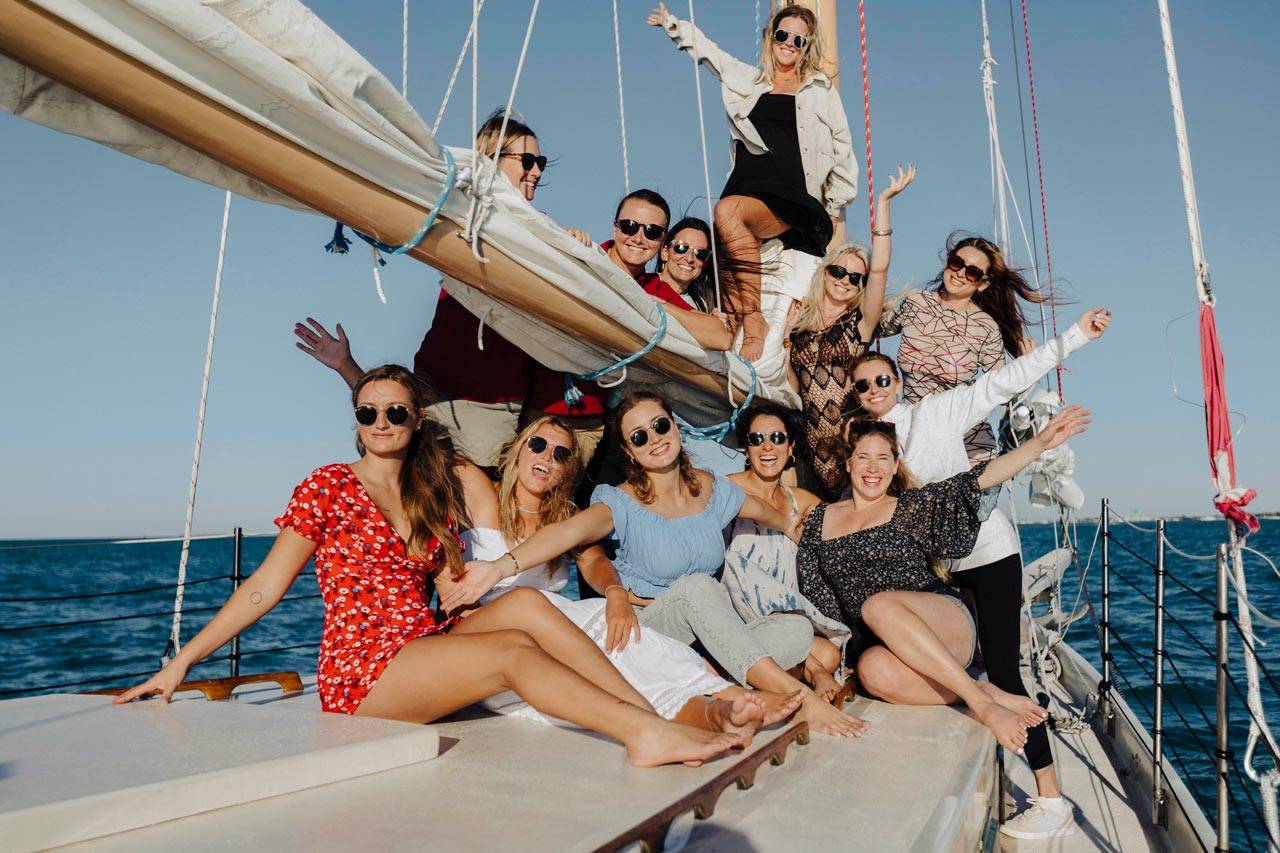 What To Wear On A Yacht
When it comes to choosing your sailing outfit, your first priority should always be comfort. This goes for day-time sails and sunset cruises.
In terms of temperature, you want lightweight and light-colored fabrics so you don't overheat when the sun's out. Pack some layering options too, in the event we encounter a squall and you want to cover up. In the "winter" months (we don't really have winter in Key West), you'll want a light sweater, sweatshirt or wrap to keep the cooler wind at bay.
For a yacht day trip – during which you might snorkel or kayak – you probably want to make your swimsuit your first layer. Then, cover up with shorts, T-shirt or tank top, a sun dress, or just a sarong. Be sure to pack a towel, your sunglasses, a hat, and sunblock (ideally reef-safe).
Regardless of the time of your sail, keep in mind that you are likely to take a lot of photos during your excursion. Make sure you'll be happy with your choice of sailing outfit, including how it may look when you're sunlit (is your skirt see-through?) or when the wind makes your blousy top suddenly close-fitting.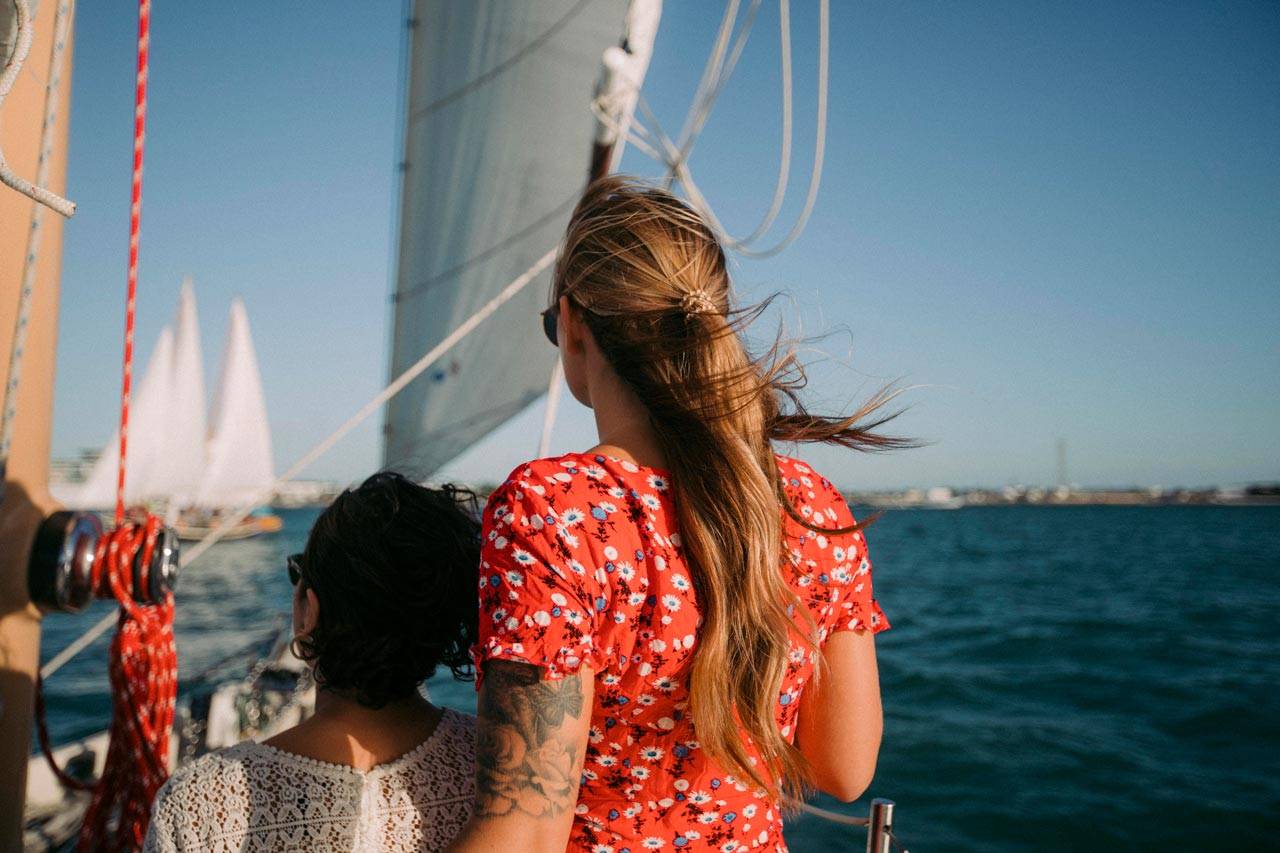 What To Wear On A Sunset Cruise
Evening events typically call for more formal attire, but the Key West version of "formal" is still pretty casual. When your sail won't be including watersports, like most sunset cruises, you won't be needing your swimsuit and an easy throw-over – and that immediately takes your attire up a notch.
As a general rule, when drinks and appetizers are involved, you should dress up a little bit. So, the sailing outfit men choose might feature khaki or linen shorts or trousers, and a short or long-sleeved button down or collared shirt. Women may choose a dress in a lightweight fabric, cotton or linen shorts or trousers and a top, rather than a T-shirt. Denim is fine for men and women, although preferably not cut offs or ripped jeans. Hats and sunglasses are, of course, acceptable too.
When a full meal is served, especially if it's a seated dinner, you are more likely to be expected to wear something more formal. Cocktail attire is probably best – so trousers and a blazer or a suit with or without a tie for men, and a short, mid, or long dress for women. If you're unsure, call your host or the company you've reserved with for more information.
In all cases, make sure you can easily reach, take sizable steps, and maneuver in your sailing outfit. You will need step over, duck under, or reach up in order to safely navigate around the vessel.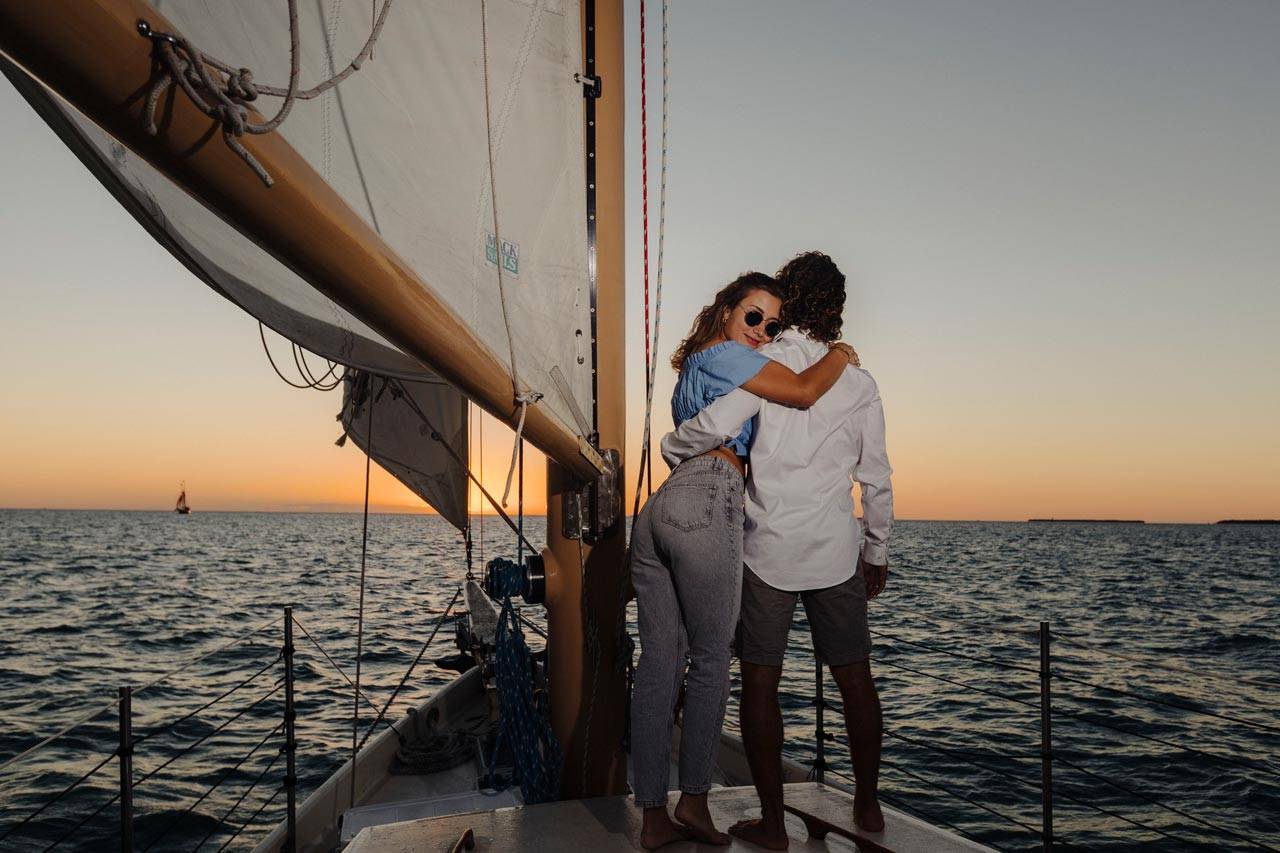 Best Shoes For Sailing
Some boats require that you remove your shoes before coming aboard. At Danger Charters, though, we allow you to keep your shoes on. Even so, some shoes are better for sailing than others.
Heels, platforms, and boots aren't wise footwear choices for sailing. The boat moves up and down and side to side with the wind and waves, sometimes heeling to one side (the best part!), so you want to be nimble and sure footed while on a yacht. Plus, these shoes can leave scuffs and dings on surfaces.
Better sailing shoes for women are flat – like ballet flats, sandals, sneakers, or waterproof shoes. Sneakers and water shoes are better for a day-time charter and ballet flats and sandals for a sunset cruise. Men will be most comfortable in boat shoes, slip on or lace up shoes, and sneakers. Flip flops are fine if you'll just stick them in your bag and opt to go barefoot, but keeping them on may tempt them to fly away with the wind!
Regardless of what footwear you choose for sailing, you will be most comfortable if the sole offers traction, the material is water resistant or dries quickly, and you have a bit of protection for the inevitable knocks and bumps from walking across a "foreign landscape."
Still have questions about what people wear on sunset cruises? Connect with us, or take a peep at our social media feeds to see what others have worn aboard Danger Charters – we're on Facebook and Instagram. Fair weather and following seas!