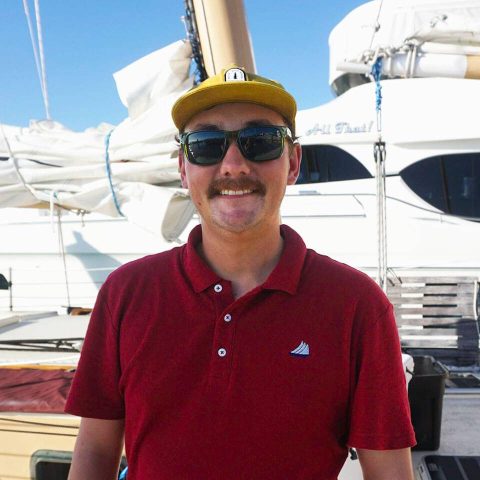 Meet Logan
Logan moved to the Keys from Georgia and immediately took to the water. He joined the sailing community and jumped into spearfishing, freediving, and wakeboarding – every day in Key West offers something new to experience!
Logan encourages guests to ask questions and get involved while sailing with Danger Charters. And if you want to get into sailing, but don't live in the picture-perfect Keys, seek out sailing lessons at the coastal town near you!
This is the adventure charter you're looking for! Brian, Anna, and Logan are consummate pros on the schooner. We sailed, snorkeled, kayaked and ate the day away all while they sailed the open water making it all look so effortless.
Jenny Hess — Google
Brian, Rose and Logan were fantastic hosts on our full day schooner trip! This was one of the best experiences we've had in Key West. Highly recommend this excursion, because you get to experience the marine ecosystem up close!!
Nikki Wood — Google
Our day sail on the Sarah with Captain Mary and Logan was absolutely fabulous! While snorkeling, we saw a variety of sea life and spectacular coral reefs. The kayak trip through the mangroves was so much fun. Logan was a great guide and very knowledgeable about the local sea life, birds and history of the area. If you are looking for an unforgettable adventure with the best charter company, this is it!!!
Selena Fritz — Google
My family and I had an AMAZING day sailing. [The crew] were knowledgeable, entertaining, hospitable, patient and kept the fun going all day. They engaged with our children ages 8 & 2 making them feel welcomed – Logan allowed my oldest to assist him while hoisting the sail!
Jessica Mills — Google
This schooner/snorkel/kayak trip was the best thing I did on my trip to Key West. I one million times recommend going on a trip with Danger Charters. Mary, Anna and Logan were great!
April Dechagas — Google