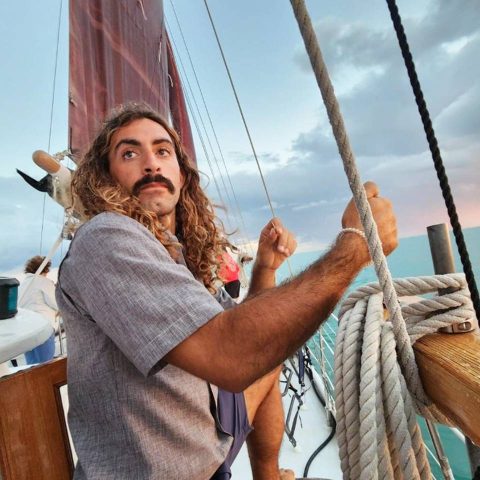 Meet Captain Dan
Dan has a Chemistry degree, but his love of adventure couldn't keep him in the lab! Dan is always up to something exciting – traveling the world, SCUBA diving, free diving, spearfishing, and of course, sailing. He's also rescue diver certified and an experienced boat captain originally from Florida. You are in great hands with Dan!
Dan says to take your time while on a sailboat – sound advice for crew and guests alike!
Our sunset sail was the absolute *best* part of our visit to Key West! Captain Dan was fantastic, and shared a wealth of sailing information for the curious. Jack and Rose provided excellent food and drink service and were pleasant conversationalists. Among the various companies offering sunset cruises, I definitely feel like we made the right choice with Danger Charters and will happily recommend them to anyone else looking for a similar excursion!
Cory Coobs — Google
We really enjoyed the two trips we took with Danger. We booked the wind and wine sail and the following day within just a couple hours before sail time, booked the sail, snorkel, and Kayak. We had Captain Dan both times and he really was the best. Micah was quite informative during the snorkel and kayak tour. Being on a schooner means smaller groups, which I find to be way more enjoyable, especially when snorkeling and we're all trying to gather when someone finds something to look at. Great time!!
Kassie — Google
If you are going to do a sunset cruise in Key West … look no further than Captain Dan and his excellent crew on board with Danger Charters. The setting was fantastic … the sunset was breathtaking and the crew were downright engaging & helpful. Beautiful experience and encourage anyone to join up with this team.
Richard R Eley, Ph.D. — Google
We went on the BEST adventure yesterday! Captain Danger Dan and his crew took us on the 1/2 day sailing, snorkeling, and kayaking tour. The small group size allowed for more personal interaction and this crew really made the effort to connect with all of us. They shared so much information about the Florida Keys, made sure we were well-equipped for snorkeling and kayaking (and provided quality equipment for all of it), and even served us delicious snacks and plentiful beverages. This tour was the favorite part of our trip! If you are ever in Key West, don't miss out on an adventure with Danger Charters!
Sarah Tracy — Google
Dan and Luke were awesome tour guides! We had a great half-day trip with snorkeling and kayaking, and they provided snacks and drinks. You could tell they really enjoyed their jobs too; Dan was out snorkeling with us pointing out interesting creatures. Luke gave great explanations of what we saw as we kayaked through the mangroves. They're both very knowledgeable and were funny and welcoming to everyone on board. Overall a great experience that I will remember for a long time.
Matt Curtis — Google
It was amazing! Mother Nature was showing her might, but after a slight delay and a cool down, Capt. Dan of the Prize set sail to an amazing sunset and rainbows. He married us with a very special ceremony with tears and cheers from all of our guests aboard! Thank you for making this an experience of a lifetime!
Herb Barry — Google