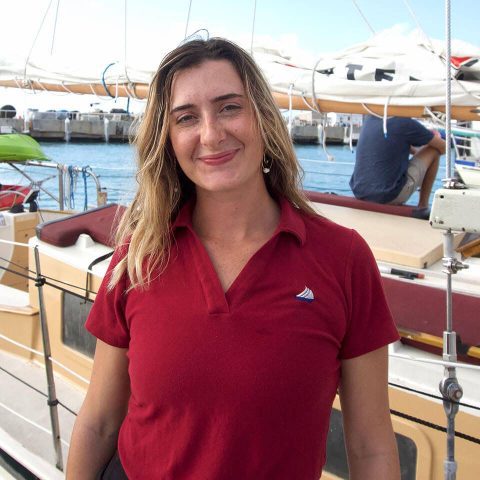 Meet Rose
There are so many things that make Key West awesome for Rose, perhaps especially learning from and working with her sister Captain Mary! Her most memorable experience on the water so far has been sailing through a big squall with 50-knot winds – it was an amazing confidence booster. Now, little pop-up squalls are nothing to worry over!
If you're interested in learning how to sail, Rose suggests that you just try it: "Once you can feel how the wind shifts the boat, it doesn't take long to catch on." In her free time, Rose enjoys catching her meals (fish and lobster), kiteboarding, SCUBA diving, snorkeling, and free diving.
Brian, Rose and Logan were fantastic hosts on our full day schooner trip! This was one of the best experiences we've had in Key West. Highly recommend this excursion, because you get to experience the marine ecosystem up close!!
Nikki Wood — Google
This is a great sunset sail on a real wind powered schooner with only a couple of dozen folks aboard. Extremely beautiful and peaceful, especially compared to the huge party boat alternatives. We sailed with Capt Mike and mates Rose and Ali who did a fantastic job serving us yummy nibbles and wines while keeping the schooner oriented for perfect viewing of the sunset and the waters surrounding Key West. Really wonderful experience.
Phillip Stiles — Google
Our day sail with Danger Charters was a fantastic experience! I couldn't recommend it highly enough. Our crew, Dan and Rose, were wonderful and knowledgeable, personable and helpful every step of the way. The snorkeling & kayaking activities were very beginner-friendly, and we had a ton of fun! Lunch, snacks, and beverages hit the spot while we were on the water. We also enjoyed meeting new friends and hearing about the history and nature of the Florida Keys. I cannot speak highly enough of this experience — we loved it!
Ellen Lewis — Google
We did a sail snorkel and kayak tour with Captain Mary, her sister Rose and Ali from Philly. What a professional and enthusiastic group of ladies. They knew a lot about the history of the Keys and shared their knowledge the entire time. We saw birds, fish and lots of coral. Topped off with wine, the most beautiful turquoise waters and lots of smiles. I would definitely recommend a day on the water with these rad ladies!! Thank you for a very memorable first trip to the Keys. I'll be back!!!
Julia Carr — Google
OMG … the BEST experience we've ever had! Dan, Rose & Caroline were treating us like family the entire trip. We did kayak around Women Key, snorkeling the beautiful Key West corals (even saw a Nerf Shark), and the boat was a dream … gorgeous sail boat. Trust me … there's no better way to experience Key West! Thank you guys for an amazing day!!
Rene Omar Cosme — Google