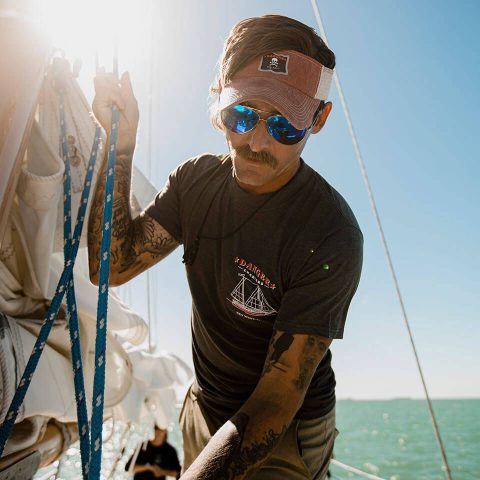 Meet Bradley
Originally from land-locked Nashville, Brad has been living his best life in Key West for the past 3+ years. He came here by way of his own sailboat, which he still enjoys sailing in his free time. He also enjoys diving and hanging out with the Danger crew – the community in Key West is right up Brad's alley.
If you haven't sailed, Brad says: "Safety first, but you have to toss the lines at some point and get out there. You'll never get confident unless you get out there and go for it – and you'll never regret that you did."
An awesome experience!! Being from Kansas, this was an experience of a lifetime, and one we'll never forget. The snorkeling and kayaking was so much fun, the food was good, and the sailboating was amazing! The crew, Ally, Mary, Danni, and Brad, were very hospitable and made it a very enjoyable experience for us! They were also very informative on the history of the islands. We had a great time and would 10/10 recommend to anyone else.
Holly Detrick — Google
The boat was expertly captained by Mary and the excursions led by Vikash and Brad. They were knowledgeable about the history of Key West and taught those who had never snorkeled or kayaked how to have fun doing it safely. I would definitely recommend this excursion and crew.
Andrea Cruise — Google
My husband and I were fortunate enough to book an afternoon half-day cruise with kayaking and snorkeling with Joe and Brad today. Both gentlemen were extremely professional, personable and so kind … Brad is super knowledgeable about the area and taught us so much in such a short amount of time. We capped the day off by sailing back in as the sun set and the sky turned the most beautiful shades of blue, pink and purple. Seriously folks, this was the best experience.
Alaina Richardson — Google