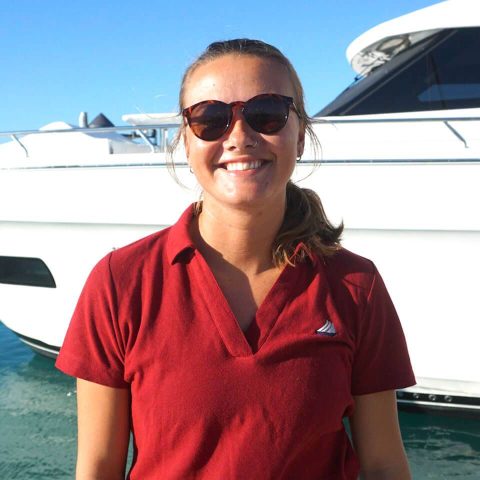 Meet Captain Mary
Mary knows the waterways of the Keys like the back of her hand and is super knowledgeable about (and still super excited by) our area's marine life. One of her favorite memories on the water is from New Year's Day a few years ago when three manatees swam right up to the boat!
Originally from Illinois, Mary lived in Costa Rica and Spain before settling in beautiful Key West. Of all of our sailboats, Danger is Mary's favorite because she was the first in the Danger Charters family that Mary captained. When she's not working, she likes to snorkel, explore the sand bars and islands around Key West, and read on the beach. To those new to sailing, she says with a smile, "It's supposed to lean like that, don't worry!!
An absolutely amazing experience!! My wife and I loved every minute of the trip!! Mary, Rose, and Dan are phenomenal hosts, experienced, energetic, and offer lots of fun. They led us to a patch reef for snorkeling which had tons of fish … as well as a stingray or two. Mary, Rose and Dan mingled and spoke to everyone during the trip like old friends. My wife and I truly loved this trip and will be back many times to sail with them. Best experience we've ever had on a charter trip!!!
Kenny Bush — Google
Danger Charters was amazing! Sailing was beautiful, the snorkeling was amazing and the kayaking was awesome! Captain Mary is a true master of her craft! Great hospitality, advanced knowledge of the area and environment, and all around amazing attitudes! The best crew on the waters hands down! Definitely check them out ASAP!
Jason Frey — Google
We celebrated the 4th of July with Danger Charters on a Sunset Sailing Cruise. Mary and her crew were so personable and fun. It was a fantastic evening! I would highly recommend using them … I know we definitely will again!
Amy B Williams — Google
The boat was expertly captained by Mary and the excursions led by Vikash and Brad. They were knowledgeable about the history of Key West and taught those who had never snorkeled or kayaked how to have fun doing it safely. I would definitely recommend this excursion and crew.
Andrea Cruise — Google
Captain Mary, Jack, Rose and the whole crew were awesome! It was a comfortable sail out and back. We had a beautiful sunset. Very reasonable price and excellent service. Highly recommend!!!
Scot Byrd — Google